http://www.koamtv.com/Global/story.asp?S=14247726
Prosecutor responds to accusations of domestic violence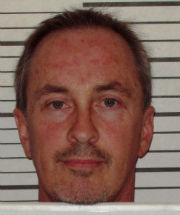 John Bullard
Updated March 14 2011 at 7:40 PM CST:  The Kansas Attorney General's office is reviewing paperwork for a county attorney accused of domestic violence.
Cherokee County attorney John Bullard was arrested Friday night on accusations that he assaulted his wife.
On Monday Bullard told us he is innocent of the charges and the charge will have no affect on his position as county attorney.
Bullard says his wife's injuries were the result of a medical condition. He says an injury to his wife's mouth and bruises were due to a medical condition and medicine to treat it.
The attorney general's office says the case is under careful review.
Posted March 14, 2011 at 12:59 PM CST: The Cherokee County, Kansas sheriff confirms that authorities Friday night arrested county prosecutor John Bullard, accused of domestic violence.
Sheriff David Groves says Bullard was arrested at his own home around 7:30 Friday evening and that the alleged victim is Bullard's wife.
She apparently had not sought medical attention at the time.
Sheriff Groves tells us the attorney general's office or a judge will select a special prosecutor to handle this case.